With each new version of the Analyzer software it gets better and more feature rich, and version 1.9 is no exception! This list highlights some of the changes. For a full list of release notes click here.

Lap Overview Track Maps.
The Lap Overview now includes track map thumbnails for the sectors, driving line and turns sections. This helps you determine which part of the track is being discussed on those sections. A scroll bar will appear on the right if the page is longer than the available screen space.

15 New Data Channels.
There are 15 new data channels available: Clutch, Fuel Remaining, Fuel Pressure, Voltage, Water Pressure, Center Front Shock Deflection, Center Front Shock Velocity, Center Rear Shock Deflection, Center Rear Shock Velocity, Shock Velocity, ERS Level in joules, Power MGU-K in watts, Power MGU-H in watts, Torque MGU-K, and Camber.

Note that not all sims support every channel. Please check this page for compatibility: Data Channels By Sim.

Savable Layouts.
You can now save layouts. This option is under File->Save Layout. Then give the layout a name to save the current layout.

Any saved layout can be opened by going to File->Open Layout. Any previously saved layouts will be displayed there. Double click on the layout you want to open. This allows you to create multiple layouts for specific purposes and easily open them.

The name of the currently opened layout is displayed at the bottom right of the Analyzer's status bar.

If you right click on the name of a layout in the 'Save Layout' dialog you are then able to delete the selected layout.

Non-commercial users can save a maximum of 10 layouts. Commercial users can save an unlimited number of layouts.

Maximum/Minimum Limits In Live Telemetry.
When showing live telemetry commercial users can set maximum and minimum limits for each data channel value. If that value goes out of those bounds then the appropriate trace display will flash or display the border in red to show the value is out of the desired range. This is a commercial license feature.



Just $24.99!


Lap Overview Track Maps: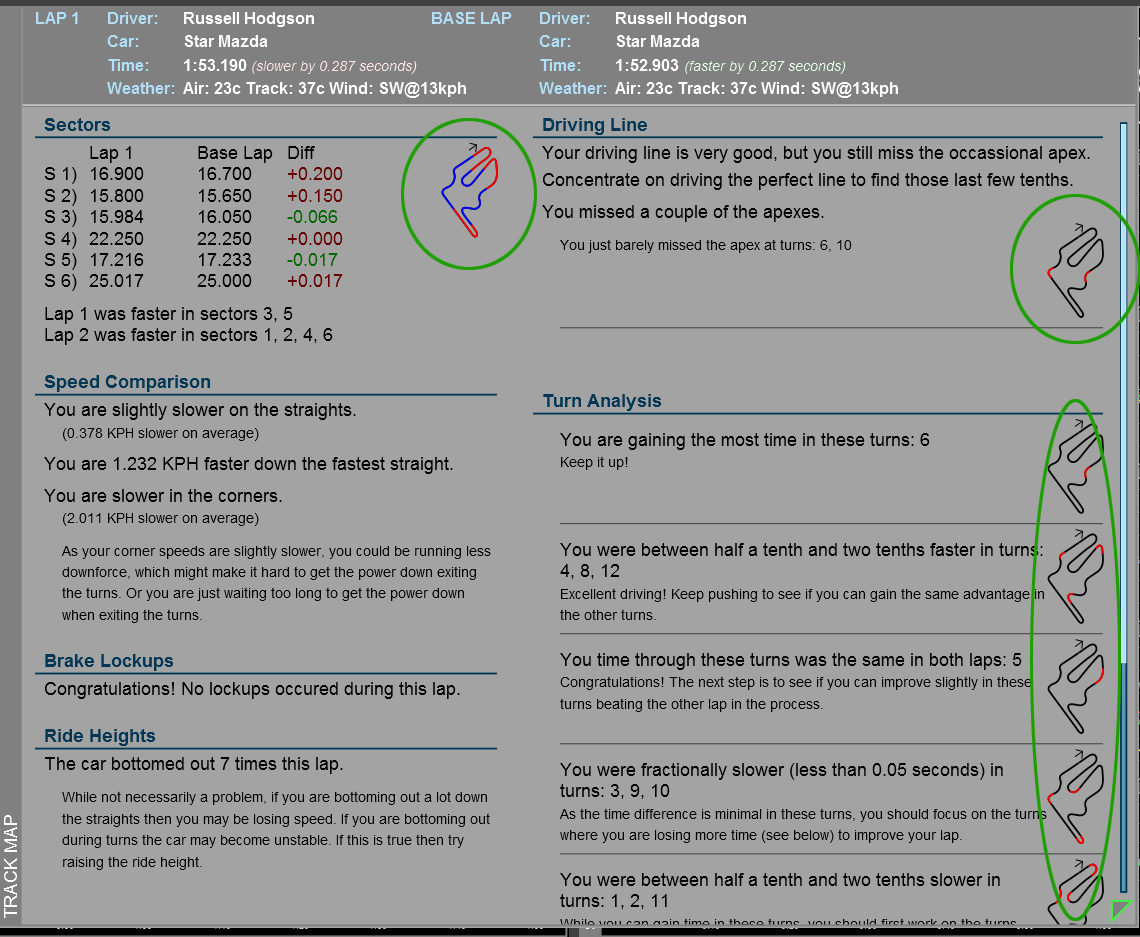 New Data Channels:









Savable Layouts: